by Travis Smith
Augusta, GA
Note: click on any picture to see a larger version.
I am just completing this carving entitled; "Tu es le vent dans mes voiles" or You are the wind in my sails. It is
4'-10" in diameter and four inches thick, carved from linden wood. The pedestal is cherry.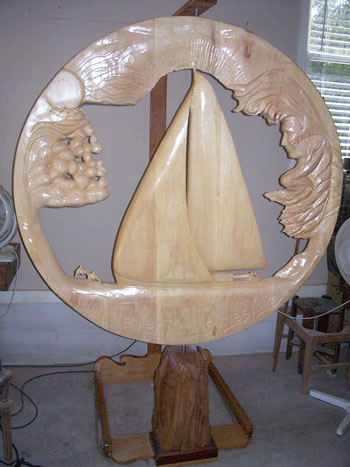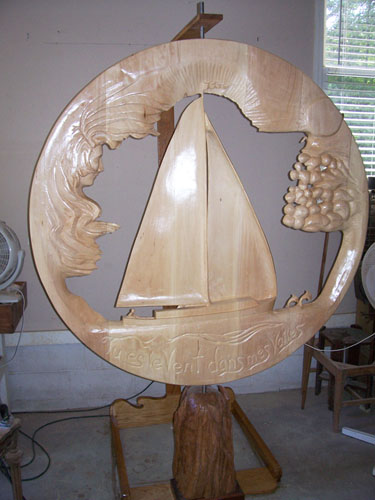 I was on the beautiful American Virgin Island of St Croix, the southernmost territory of the United States, staying in a home that had a five foot diameter hole in the wall between the dining room and the living room. It was probably put there to help circulation in this tropical home. But there in the beauty and splendor of paradise I envisioned a carving of a sailboat in that five foot space. After returning home, the romance and inspiration to carve what I had envisioned would not go away, so I drew a sketch of what I had been inspired to carve. I purchased the four inch thick boards of Linden wood from McLendon's Exotic Woods in Atlanta.
I joined the boards and cut out the circular medium with a Sawsall that had a long saber blade. I found these blades kept bending as I worked around the circular form so I decided to cut the pattern outside the five foot diameter and follow up with a Porter Cable Jig Saw that had the longest blade I could find. The blade didn't bend or distort near as much as the Sawsall.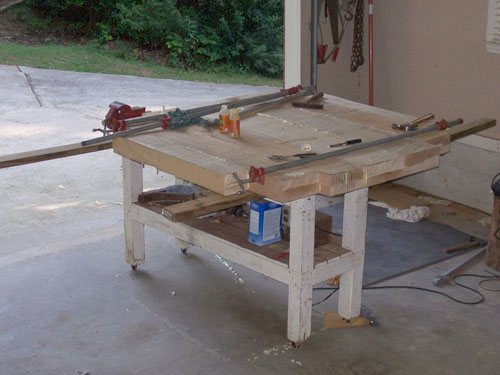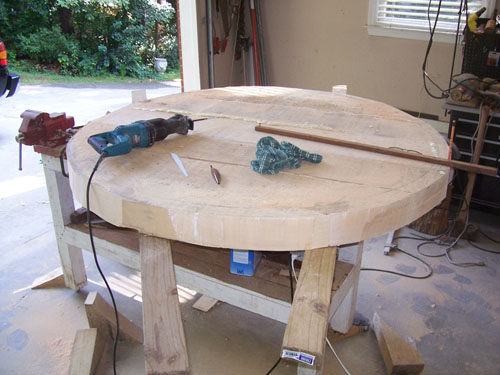 Once the medium was cut out, I put on the pattern that I had drawn and began wasting wood. The pictures kind of give you an idea how it took place and I had to work on both sides simultaneously since it was three dimensional. The bulk of the carving was completed with the Arbortech Mini-carver. The general shaping was done with the Foredom tool. From there it was chisels and knives and a whole lot of sanding.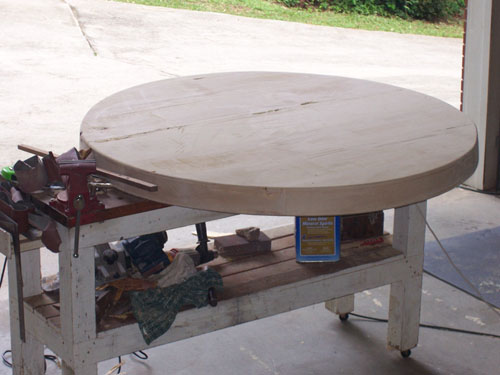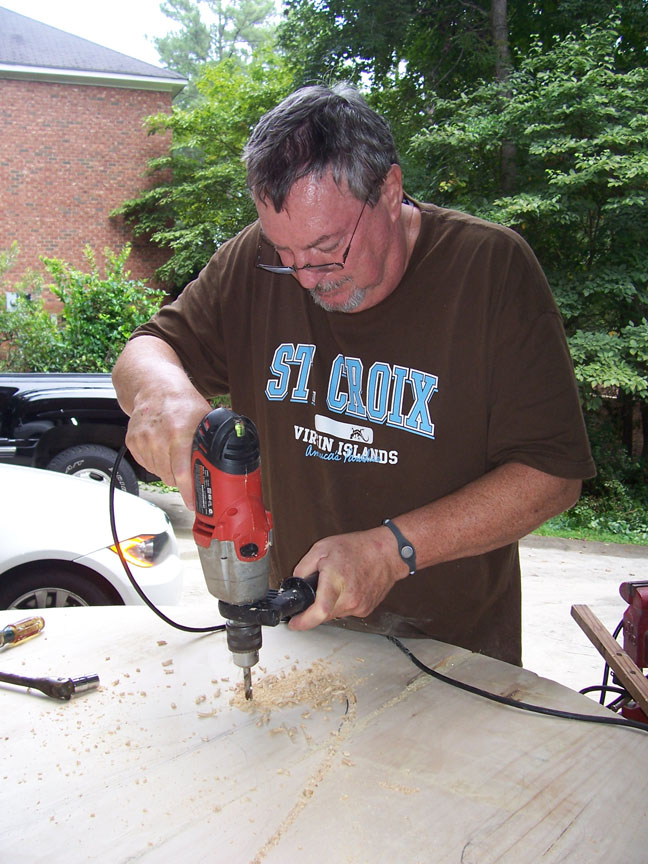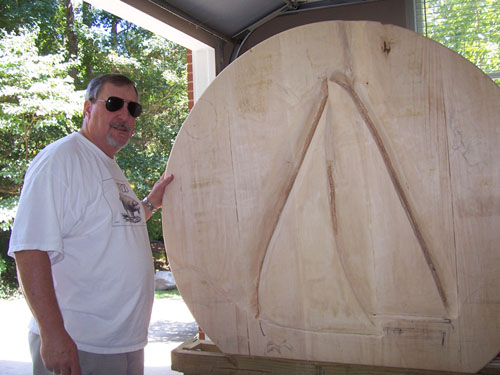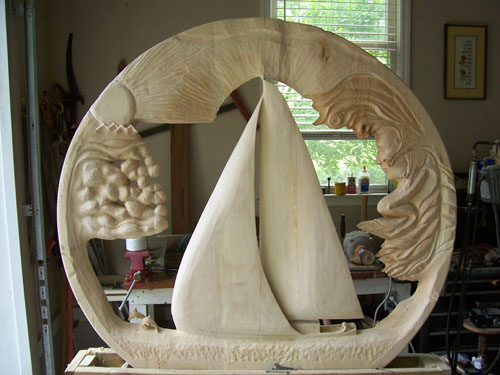 The final finish is a clear acrylic.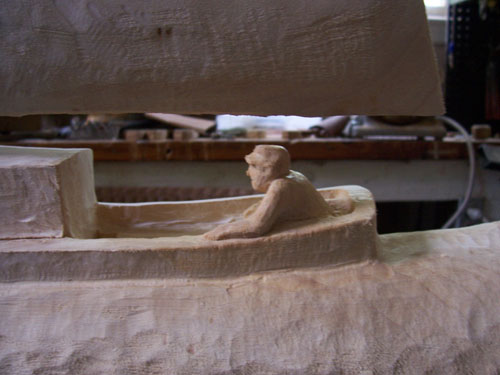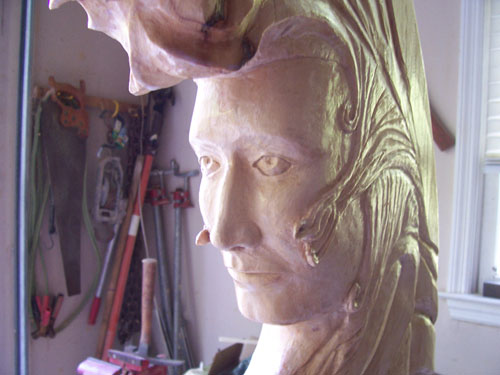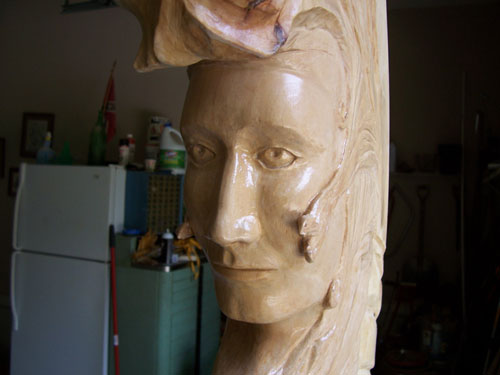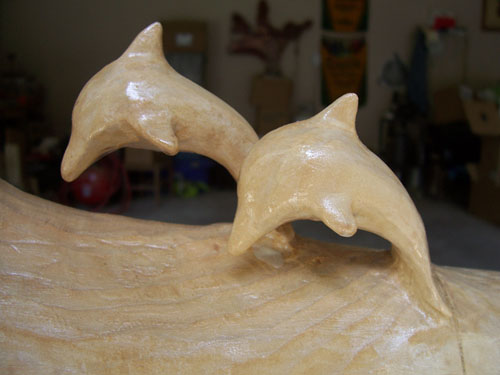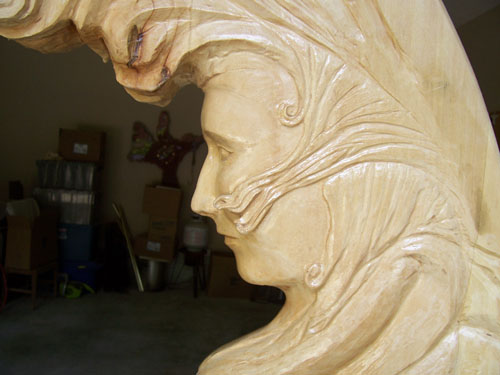 The crazy thing about it is, while I was working on it I realized how much it was going to cost to ship it to St Croix and the logistics of getting it there unbroken and then mounted into the space in the wall without me. This was an insurmountable roadblock. I decided to carve the pedestal and build the framework for it to be mounted in and just keep the piece here in the States. Guess I still owe my hosts in St Croix a carving.
I took a duck decoy carving course from Ernie Mills in 1983 and have been enjoying the pleasure of carving ever since.
---
You can email Travis at trsmith@georgiahealth.edu.
Would you like to see your carvings in this column? We invite you to SEND US PHOTOS of your favorite woodcarving projects along with captions and a brief history of your woodcarving. (Email photos at 800x600 resolution.) Receive a $50 store gift card if we show your carving work in a future issue!
Return to Wood News front page