Here's My Woodworking!
by Rod Scott
Hayden, Idaho
Click on any picture to see a larger version.
I have been making furniture and cabinets for 30 years and have made numerous Windsor chairs both regular and child size. My wife has has demanded I stop making chairs as the house is filled already. I purchased a midi lathe about a year ago and have been experimenting with decorative turning lately. Now there are various turned boxes all over the house.
I started woodworking in school shop circa 1960. I also made blanket chests for my sister and an aunt during that period. After getting my engineering degree and getting married I started assembling my shop equipment and building most of the wood furniture for our household. During the 1980s I built cabinets for the houses we built in Oregon.
During the 1990s we lived in Georgia and I specialized mainly in traditional furniture - mostly Queen Anne in solid cherry. A lot of these pieces were for friends or an occasional commissioned piece. One enjoyable project was making a harpsichord from a kit for a friend's wife. In 2000 we returned to my native North Idaho and I set up shop in the third bay of our garage. I have gravitated to Craftsman style and do a lot of fun pieces that catch my eye.
Retirement is in the near future and I plan to start a small business selling some of my work. The objective is to sell my accumulated pieces to finance future projects. Among other things, I have plans for a Morris chair and stool, Craftsman arm and side dining chairs, and at least two more Windsor chairs. I recently purchased a mini lathe and have lots of ideas for small turned items like boxes and ornaments.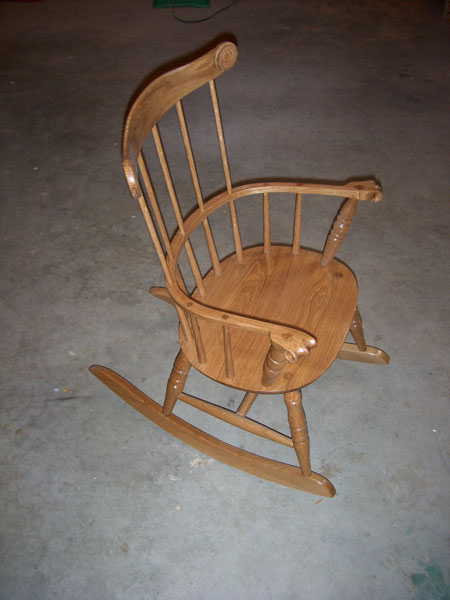 This is a child size Windsor rocking chair. I have made several others as gifts and just finished this one recently. The wood is white oak and the finish is wax rubbed lacquer over a very light oil based stain. I bought the wood from a woodworking school that was going out of business. It was a 1x10 so the turnings are two laminations thick. The back and arm spindles were rived out of straight grained areas of the board. The back was steam bent and hand carved. The arm hands are also hand carved.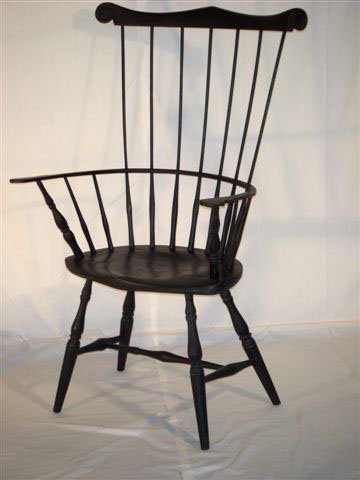 The comb back Windsor is the most elegant Windsor I have attempted to date. It is finished with milk paint.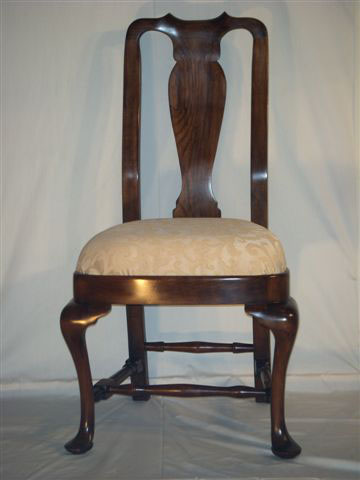 The Queen Anne chair is one of a set of four. It was made from solid cherry and I did the seat upholstery. This was my first attempt at using fabric. Three of the chairs are in my wife's closet because there is no other place for them.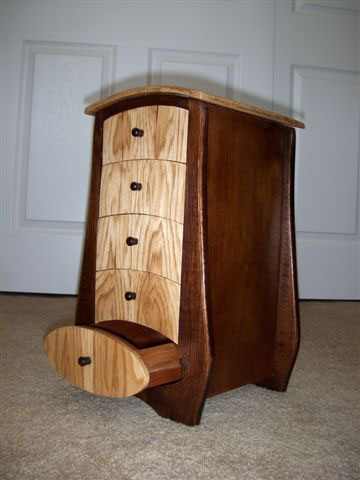 The small chest was designed from a similar one I saw on the net. It is ash and mahogany. I gave it to a nephew and his new wife earlier this year.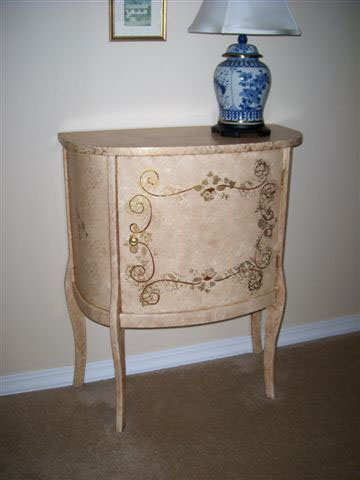 The half round chest is Queen Anne style with cabriole legs. This is one of three I made about ten years ago. My wife has one and the others were gifts.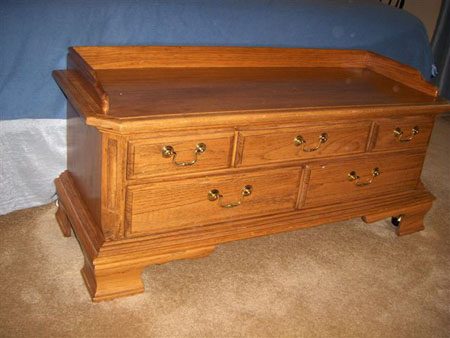 The blanket chest is red oak. It was designed to match the bedroom set my wife purchased.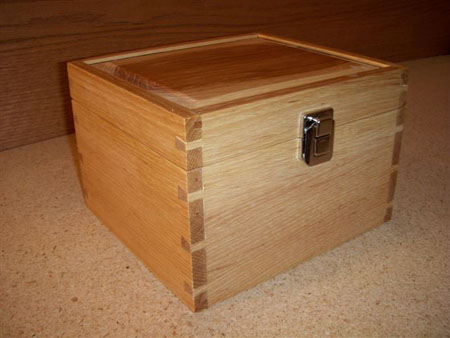 The router box is dovetailed red oak made to store my router bits and accessories. I cut most of my dovetails by hand.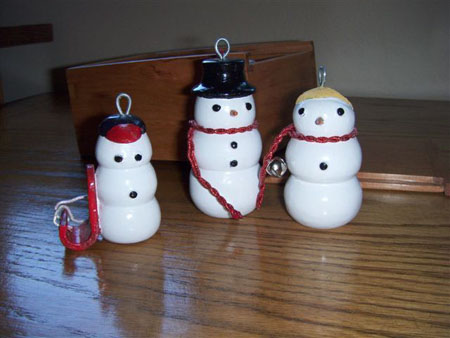 The Christmas ornaments are turned and hand painted with a dovetailed presentation box. I have made several sets mostly for gifts.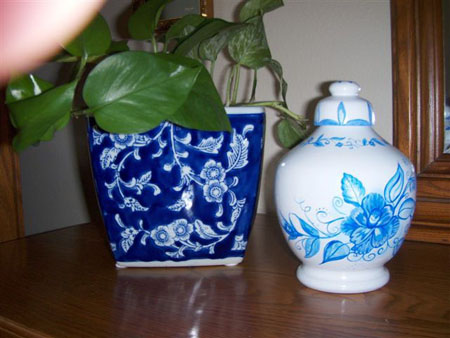 The ginger jar is an experiment I did with my new lathe. It was turned in two pieces to hollow the inside and then glued together. It was hand painted by a friend.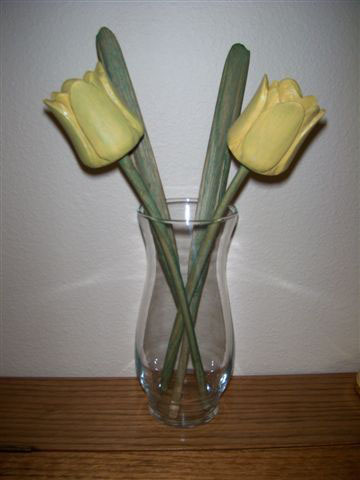 The yellow tulips were turned for my wife. I made two at a time and she said that there MUST be three when decorating. I subsequently made a third plus a bud. They are turned and carved. I painted the blossoms, stems, and leaves.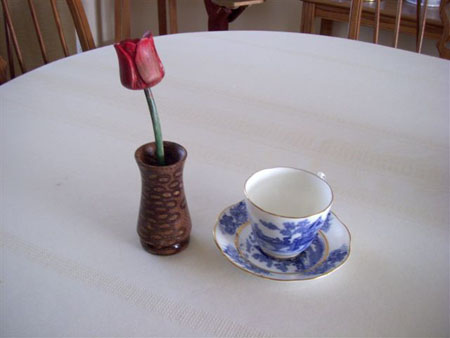 The vase with tulip was turned from a banksia seed pod that was given to me. I made the red tulip and gave the vase to the lady who gave me the pod.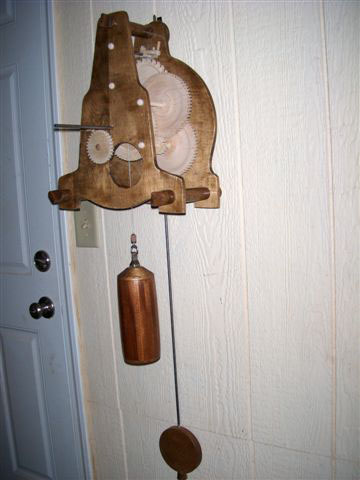 The clock is made from wooden gears and other parts. I have not completed it yet.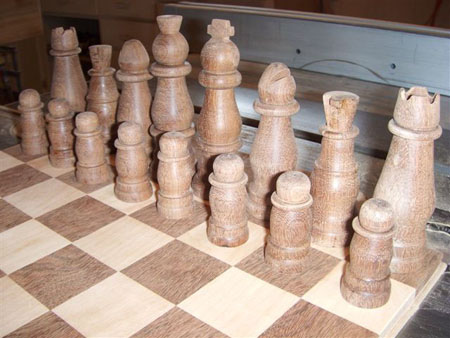 The chess set is a project I am working on at this time. It is made from hard maple and rosewood. Eventually the board will have two drawers under it to hold the pieces when not in use.
---
You can email Rod at dyle.scott@yahoo.com.
Would you like to see your woodworking in this column? We invite you to SEND US PHOTOS of your favorite woodworking projects along with captions and a brief history of your woodworking. (Email photos at 800x600 resolution.) Receive a $50 store gift card if we show your stuff in a future issue.


Return to Wood News front page