An awesome present that's always appreciated by just about any woodworker anywhere.
---
Visit Our Store

If you live near Atlanta, or are just passing through, we invite you to visit and leisurely browse our amazing retail store. The thousands of woodworking tools on display here await your personal examination.

1045 N. Highland Ave NE

Atlanta, Georgia

Show Your Shop!
For this popular monthly column, we invite you to SEND US PHOTOS of your woodworking shop along with captions and a brief history and description of your woodworking. (Email photos at 800x600 resolution.) Receive a $50 store gift card if we show your shop in a future issue.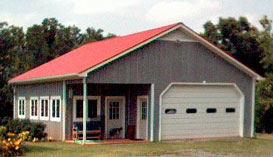 ---
Ask the Staff
Question:
I have recently found that beetles are making holes and trails in my lumber. What can I do to protect it from further damage?
Check out the answer HERE
E-mail us with your woodworking questions. If yours is selected for publication, we'll send you a free Highland Woodworking hat.
---
SAVE!
---
Down to Earth Woodworking
This month Steven Johnson reveals a few surprise corollary benefits he discovered in his own designs, and also reviews a couple of books featuring villain woodworkers plus an unexpectedly exciting history of wood. To wrap things up for July, he explores something he calls "the gestalt" of good furniture design.
---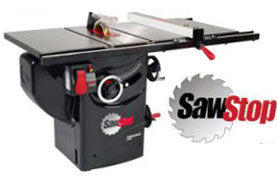 New Lower-Priced SawStop Cabinet Saw
The award-winning SawStop Professional Cabinet Saw has just become more affordable. Now being offered for August delivery with 120 volt 1.75 HP motor, the SawStop PCS175 is priced at only $2299. (The 3 HP model requires that your shop be wired for 220 volts.) Now more shops than ever will have access to SawStop's safety performance, quality, and innovative engineering.
---
Save $20 on Musical
Hearing Protectors
Enjoy hearing your favorite tune on your own MP3 player or the built-in AM/FM radio in your woodworking shop while protecting your ears from damaging machine noise. Only $39.99 while limited supply lasts.
---
We Now Have
Bench Cookies!

You'll be amazed at how easy it is to sand, route, carve or finish a workpiece while these grippy gadgets hold your workpiece firmly in place on a clean flat surface.
---
While limited supplies last, add convenient light wherever you need it with this outstanding deal on our Steel City magnetic work light.
---
Finishing Wood
with Alan Noel
Color Matching Tips


Without a doubt, matching a new veneer patch in an old table top to the surrounding area, or replacing a missing element with a new piece of wood is one of the most frustrating and challenging areas of furniture restoration work.
---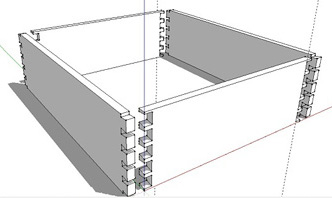 Designing Dovetails & More Using SketchUp
By Sean Headrick
San Jose, California
This month's SketchUp column shows you how to use SketchUp for basic woodworking and joinery modeling. Each step is clearly illustrated and described.
How Does SketchUp Work for Joinery Design?


---
This little gem has already proven itself to be an excellent value as a 10" bandsaw, especially at this low introductory price. In our tests at the store, we installed a Wood Slicer resawing blade on the Rikon 10-305 bandsaw, carefully adjusted all the guides, then proceeded to resaw uniform slices 1/64" thick off the length of a 4x4. We highly recommend it as your first bandsaw bought on a budget, or as a second bandsaw that allows you to avoid constantly swapping blades on your main bandsaw.
---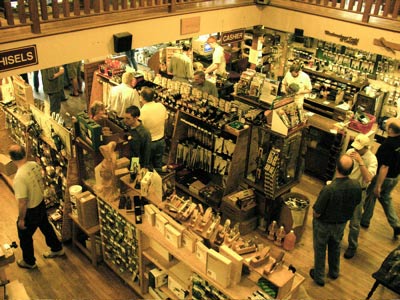 Attend our Atlanta Summer One-Day Sale
Saturday, July 17
If you're within driving distance of Atlanta, please visit us on July 17 between 8:30 AM and 6 PM for our big summer one-day sale, featuring demos of the SawStop tablesaw, Festool power tools, affordable Earlex HVLP sprayers, innovative Kreg joinery and router jigs and other demos. Shop for great in-store-only One-Day Specials.
1045 N. Highland Ave NE
Atlanta, GA
---

Check Out our New Woodworking Blog
The Highland Woodworking blog now has a bright new look and user-friendly interface for reading, sharing and commenting. We invite you to expand your access to our growing woodworking community and get new woodworking tips, news about our classes and first crack at special promotions.
---
ALSO VISIT HIGHLAND AT:

---
Show Your Stuff!
For this new column, we invite you to SEND US PHOTOS of your favorite woodworking projects along with captions and a brief history and description of your woodworking. (Email photos at 800x600 resolution.) Receive a $50 store gift card if we show your stuff in a future issue.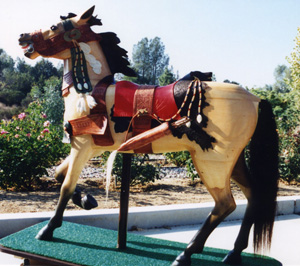 ---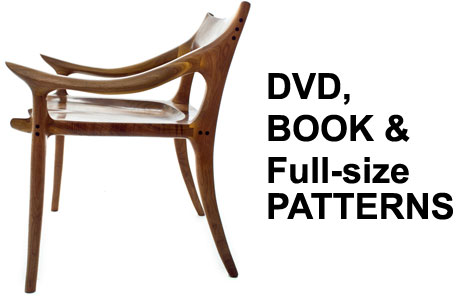 NEW Charles Brock
Plan Bundle:
Maloof-inspired
Lowback Dining Chair
The latest new plan bundle in Charles Brock's series of Maloof-inspired furniture is coming available July 15, 2010. Pre-order now for earliest delivery, and a special bonus.
---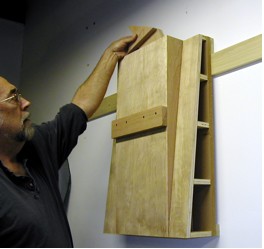 A Better Shooting Board: It is hip to be square
By Steven D. Johnson
Racine, WI
My trusty shooting board, perhaps the great- great- great-grandson of my first shooting board, was getting a little "long in the tooth." Giving birth to a new one would typically involve about fifteen minutes of labor. But, I decided to prolong the gestation period over a cup of coffee and think about whether the laughably simple "classic" design could be improved.
---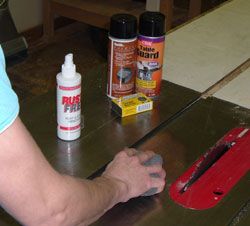 How to Control Rust in your Woodworking Shop
The absolute best way to eliminate rust from the surfaces of machines and other tools in your shop is to stop it from ever really getting started in the first place. We'll show you some good ways to do that, as well as how to completely remove it once it's already formed.
---
Two Minute Safety Tips - WE WANT MORE!
We had a great response to Howard Van Valzah's safety tip last month, and now we want more! Do you have a great idea for staying alert and helping to avoid injuries in your workshop? If so, we want to hear about it! You can either leave your tip in the
comments of our blog or send it
directly via email. Receive a $25 store gift card if we feature your tip in a future issue.
---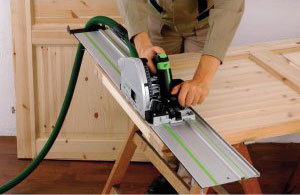 Last Chance to Save 10%
aon a Festool Track Saw,
Now thru July 31
Today is one of those extremely rare days when Festool offers a discount on one of its most popular tools. Order today and you'll save 10% on our Festool TS55 and TS75 track saws, as well as on spare blades, extra tracks and the Track Accessory Kit. We have saws and accessories in stock with free delivery in the lower 48 states. But don't wait too long. Supplies are limited and may sell out.
CLICK HERE for more info and a short video::
---
NEW Earlex 2900
USER FRIENDLY HVLP
Sprayer, only $149.99
The English-made Earlex 2900 Spray Station has made smooth and efficient spray finishing both user friendly and highly affordable. Discover how fast and easy finishing can be without having to apply using a brush. Comes equipped to flawlessly spray stains, lacquer, shellac, polyurethane, and water-based finishes, as well as thinned latex paint.
---
NOW SAVE EVEN MORE
on our Deluxe Steel City14" Granite Bandsaw!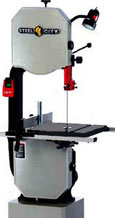 Purchase the 50100G bandsaw for $599.99 and get the 12" Height Adjustment Riser Kit for just $49.99 (reg. $89.99). Total cost of this package deal (our item 50100GR) is $649.98 plus shipping.
If you're in the market for a powerful, full-featured bandsaw capable of any challenge from heavy-duty resawing to fine, delicate fretwork, look no further. We believe the Steel City model 50100G is one of the best 14" bandsaws available at any price, anywhere. Quantity purchasing has kept our cost low, and we're passing the savings along to you.
---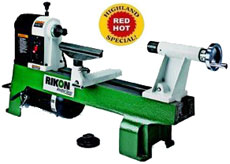 Rikon 12" Lathe
Red Hot Special $289.99
Act now to save $40 on this popular compact lathe. Includes live center, 12-position indexed headstock, 6 speeds - 430-3900rpm, 3" faceplate, 1/2 HP motor and 2 year warranty. Weighs 89 lb.
---
Why Not Write
Your Own Article
for Wood News?
We actively solicit contributions of editorial material (articles, photos and videos) from our customers and readership, and for every one we accept and publish in Wood News Online, we will compensate the contributor. We typically pay up to $100 (in the form of a store gift certificate) for a thousand-word-plus article with photos. The amount of the gift certificate may be prorated for shorter articles. Articles submitted may be edited by us at our discretion, and compensation may vary depending on the published length.