The Down to Earth Woodworker
Q&A: Refinishing an Old Dresser
Show Us Your Stuff
Holiday Finish Cleanup
Safety Tip: Read the Manual
The Accidental Workbench
---
---
December 4 & 5
Fundamentals of Woodworking
December 7
Hand Tool Sharpening
December 8
Taming of the Skew
December 9
Build a Durable Picture Frame
December 11
Turning Pens
December 12
Basic Bowl Turning
December 14
Using Hand Planes
December 15
Finishing the Finish
December 18
Beginning Turning
January 5
French Polish Workshop
January 6
Timber Framing
January 8
Basic Bowl Turning
January 9
Basic Bowl Turning
January 10-13
Cabinetmaking Basics: Build a Base Cabinet with a Drawer
January 15
Hand Saw Sharpening
January 18
Hand Tool Sharpening
January 19
Sharpening for Turners
January 22
Beginning Turning
January 23
Turn a Lidded Box
January 25-26
Creative Furniture Design with Sabiha Mujtaba
January 29
Introduction to Marquetry
January 29
Spray Finishing
Classes Suitable for Teens
See a List of All Our Classes
View Slideshows of Classes
---
---
---
---
---
CLICK HERE for more info:
---
---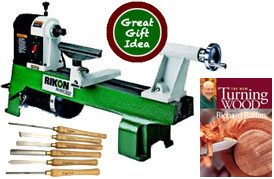 ---
---
---
You can enjoy the benefits of 77" long solid straight granite jointer beds, a cutterhead with 3 quick-change knives, 2 HP 230 volt motor, plus a 5-year warranty, all at a very affordable price! Weighs 460 lbs.
---
---
---
---
---
An awesome present that's always appreciated by just about any woodworker anywhere.
---
---
Racine, Wisconsin
---
---
---
---
---
---
"Truly the work of a Master Craftsman. An inspirational piece and it makes me proud to be an American."
"Charlie, you inspire the rest of us to do more, do better and never quit when the chips are down. Your piece deserves to be in the Smithsonian one day."
---
---
---
---
---
---
---