---
---
---
---
---
---
---
---
---
---
---
---
---
CLICK HERE to download a FREE copy of the August issue
---
---
This adjustable-mouth rabbet plane, based on the Record 041, has all the refinement you would expect from a Lie-Nielsen plane. The body is all-metal, cast of ductile iron, and with a bronze cap. The body is 5 3/4" long by 5/8" wide, and it weighs 1.35 pounds.
---
---
---
---
---
---
E-mail us with your woodworking questions. If yours is selected for publication, we'll send you a free Highland Woodworking hat.
---
---
---
---
---

Report on the French Oak Roubo Workbench Project
A group of woodworkers gathered in Barnesville, Georgia recently to build 16 Roubo workbenches using massive oak timbers that came with a very unusual pedigree.
Read more about it:
---
Benchcrafted Vises Now Available from Highland

We are pleased to now offer Benchcrafted vises, the finest workbench hardware made anywhere. In addition to their exceptional leg vises and tail vises, we also recommend Benchcrafted's superb set of plans for building a Roubo split-top bench. We also offer premium hard maple 4"-thick laminations for workbench tops to make it easier to construct your own Roubo workbench.
See our Benchcrafted Vises:
---
---
NEW - With the Grain
A Craftsman's Guide
to Understanding Wood
by Christian Becksvoort

Recently at a Lie-Nielsen hand tool event, we asked Chris Becksvoort what distinguished his new Lost Art Press book from Bruce Hoadley's best-selling "Understanding Wood" (first published by Taunton back in 1980). His answer: "That is a great book. He knows a lot about wood. However he's not a woodworker." Well that pretty much answered the question. A student of the subject all his life, Becksvoort for sure knows a lot about trees and wood, and as one of the most accomplished craftsmen of our time, he is especially knowledgeable about the science of wood as it applies to building furniture.
See why every woodworker should own this book:
---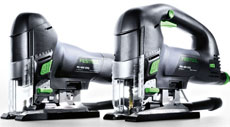 Sweet New Festool Carvex Jigsaws
As with all their other tools, Festool has reinvented the power jigsaw to make the Carvex the finest jigsaw on the planet. High efficiency brushless motor, tool-free FastFix Blade Chuck, interchangeable bases, strobe LEDs and auto triple guide blade system provide smooth, vibration-free cutting unlike any you've ever experienced.
Click here for more info:
---
Save $30-$40 on
Triton Plunge Routers

Choose either 2 HP or 3-1/4 HP models of this extremely versatile plunge router, great for either hand-held use or extremely convenient performance in a router table.
2 HP - SALE $219.99
3-1/4 HP - SALE $249.99
---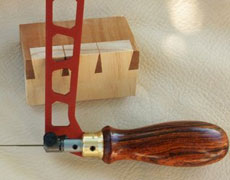 Elkhead Handles for Knew Concepts Saws
When we first saw a Knew Concepts fretsaw in action, we knew it was a very fine tool, but wondered how many woodworkers would be willing to shell out $100 for a tool they've been used to buying for $15. Now after selling over 500 of the saws, that doubt has been erased. The only complaint we ever recall was that the appearance of the handle did not live up to the beauty of the saw. Elkhead Tools has created a remedy for that in the form of these beautiful well-made cocobolo handles. Just like the saws, they are not cheap but some who own the saw will want to retrofit one of these handles.
Click here for more info:
---
New 6 Inch Quick-Action Bar Clamp

We've now added a 6 inch version to our extremely popular line of affordable quick-action clamps. Purchase either individually, as a set of 6, or as part of a set of assorted sizes.
Click here for more info:
---

Buy Flexcut Carving Tools
Get Cash Back!
Receive a $5 Cash Rebate on each $50 worth of Flexcut carving tools purchased. Valid through 7/31/2015.
CLICK HERE to see Flexcut Tools:
CLICK HERE to download coupons:
---
Toggle Clamp Yoke Assembly

This new accessory adds to your toggle clamp's already-exceptional versatility by distributing its clamping pressure over a wider area, thus increasing the stability of the workpiece being held.
Click here for more info:
CLICK HERE to see all of our toggle clamps:
CLICK HERE to see the 15 winners in our toggle clamp jig design contest:
---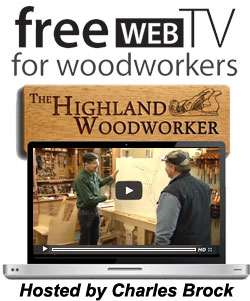 CLICK HERE to see
the latest episode:
---
Save $60 on our FEIN
Select Plus Multi-Master
and get FREE SHIPPING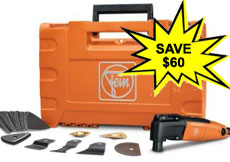 We have a limited quantity of this popular model to sell at 20% off regular price. Includes QuickIn Rapid Lever Clamping System for tool-free accessory changes, durable case and assorted accessories.
CLICK HERE for more info:
---
WOOD SLICER Testimonial

A few days ago I received my wood slicer blade and talk about a happy man, I am one. I have a 14 inch rigid band saw and have had it for several years with little of no use. I was never happy with the way it cut or for that matter there wasn't a lot I liked about it. I just keep it around to do those things I couldn't do with a table saw.
I have used it more these past few days than I did in the past several months. Its almost like I have a new band saw. The ease of cutting wood is now a pleasure where is use to be a pain in the butt. You have a winner with the wood slicer. I have never done any wood slicing, since I knew the band saw couldn't handle it with the blades I have been using. I plan on using the wood slicer for all my band saw needs in the future. — Tom G.
Get Yourself a Wood Slicer: