An awesome present that's always appreciated by just about any woodworker anywhere.
---
Stay Up-To-Date on All That's New at the Highland Woodworking
Show Your Shop!
For this popular monthly column, we invite you to
SEND US PHOTOS
of your woodworking shop along with captions and a brief description of your woodworking. (Email photos at 800x600 resolution.) Receive a $50 store gift card if we show your shop in a future issue.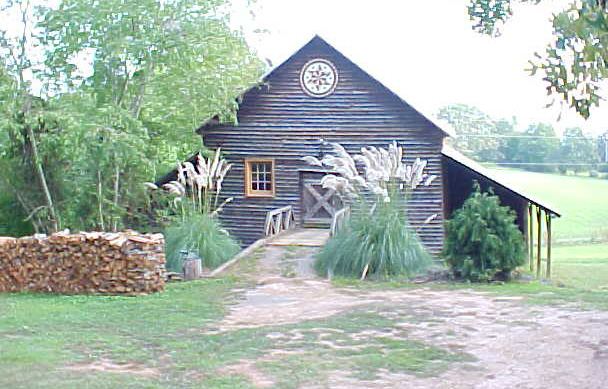 Featured this month is Jim Chandler's workshop built in a restored 111-year-old barn.
CLICK HERE for a look inside Jim's shop:
---
What does a retired Industrial Arts Teacher give his 15 year old grandson for a gift? Seeing that he is the starting catcher on his high school baseball team, why not make him a baseball bat?
Here in the first week of the Major League baseball season, Jack Masten gives a step-by-step tutorial for turning a classic baseball bat from Northern White Ash.
---
Ask the Staff
Question:
Until now my woodworking has been done mostly using power tools. I'd like to see what it's like working wood with high quality hand tools. I'm curious about your Lie-Nielsen planes. If I were to start with one or two planes, which ones would you recommend?
E-mail us with your woodworking questions. If yours is selected for publication, we'll send you a free Highland Woodworking hat.
---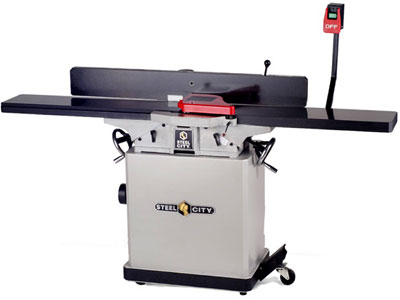 NEW Steel City 8" Helical Head Granite Jointer
Is a Superb Value,
only $1099.99
This great value in a longbed 8" jointer is finally in stock and available for immediate shipment! You can enjoy the benefits of 77" long solid straight granite jointer beds, patented helical cutterhead with 16 four-sided carbide inserts for consistent sharpness and fast, easy setup, 2 HP 230 volt motor, solid 48" long center-mounted granite fence that tilts in and out for bevels or chamfers, integral mobile base, and a depth of cut up to 1/2". All this plus a 5-year factory warranty, and at a very affordable price! Net weight 460 lbs.
---
Cauls are found in almost every experienced woodworker's shop. They were used by our woodworking ancestors hundreds of years ago, and maybe even thousands of years ago. They're so common that when we talk about woodworking techniques we usually forget to mention cauls - they're just there, like the air we breathe. But for new woodworkers, cauls can be a mystery.
---
New Rikon 10" Bandsaw
Only $199.99, save $80!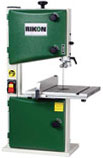 This little gem has already proven itself to be an excellent value as a 10" bandsaw, especially at this low introductory price. In our tests at the store, we installed a Wood Slicer resawing blade on the Rikon 10-305 bandsaw, carefully adjusted all the guides, then proceeded to resaw uniform slices 1/64" thick off the length of a 4x4. We highly recommend it as your first bandsaw bought on a budget, or as a second bandsaw that allows you to avoid constantly swapping blades on your main bandsaw.
---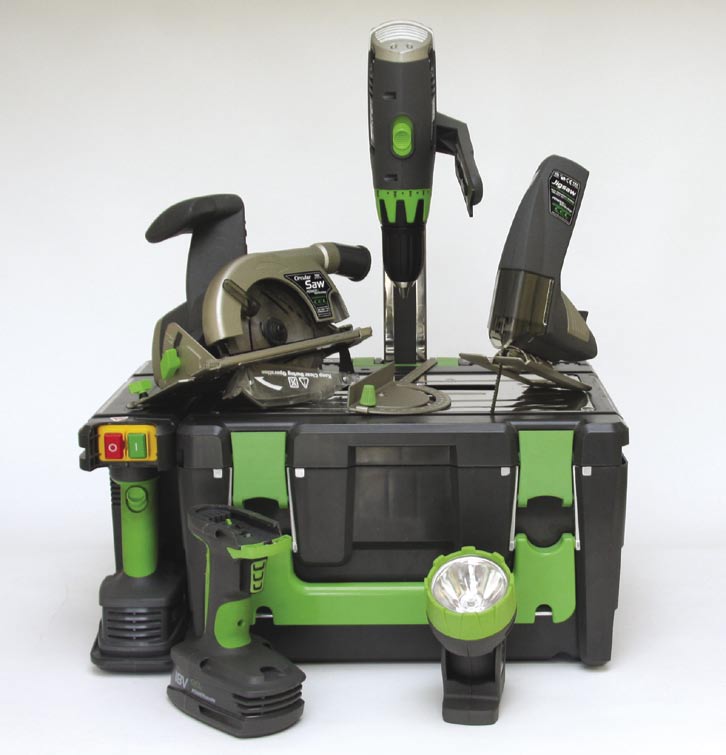 Meet the Power8 Cordless Workshop
By Nick Gibbs

The Power8 Workshop provides a compact solution for the woodworker or do-it-yourselfer who needs versatile tools that are easily transported to the jobsite, or operated in limited (or even non-existent) shop space. The powerful 18 volt individual cordless circular saw, jigsaw and driver/drill also each function as a benchtop tablesaw, scrollsaw and drill press.
---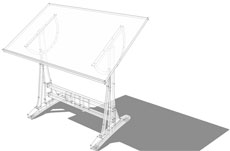 Designing a Draftsman's Table with SketchUp
By Sean Headrick
San Jose, California
This month's SketchUp column shows you how you can use SketchUp to design a draftsman's table. Beginning with this issue of
Wood News Online
, I'm using a simpler format for presenting the process step by step, with easy-to-understand captions labeling each image.
---
FREE 12-piece Leigh Router Bit Set with New Improved Leigh D4R Pro Dovetail Jig
The world's best dovetail jig just got a whole lot better! In its new PRO version, Leigh has expanded the capabilities of its flagship D4R dovetail jig to allow easy creation of single pass half-blind dovetails as well as box joints. Order before the end of April and receive FREE a 12-piece dovetail router bit set (a $169 value) after you register your jig with Leigh (Applies to U.S. and Canada only).
---
Heavy duty half price special


Regular $19.98 per pair
SALE $9.99 per pair


---
Finishing Wood
with Alan Noel
Is it safe to use water based dyes and finishes on veneers bonded to MDF?


The number one reason for working on furniture made from veneered MDF (medium density fiberboard) relates to water damage that causes swelling of the substrate due to moisture absorption, typically around the edges of tops and along the lower edges of case goods. So obviously, water based anything is tricky to use on veneered pieces made from MDF.
---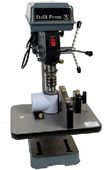 Luthier's Friend
Precision Sanding Station
$159.99

---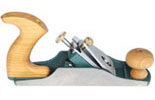 New German entry in the premium plane market!
---
Woodturning Symposium
in CT, June 18-20, 2010

The American Association of Woodturners will hold their 24th Annual AAW Symposium in Hartford, CT, June 18-20, 2010 at the Connecticut Convention Center.
---
Tough Leather
Shop Apron
Now on Sale for $49.99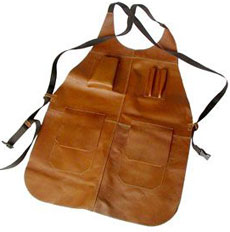 Recent Testimonial
Just wanted to let you know I received your new leather shop apron that is on sale right now and LOVE IT!! The leather is high quality (being a longtime horseback rider and saddlery owner I know leather) and it is the only one that I found anywhere with the pocket flaps reinforced with rivets. I needed one that could see hard service in the shop and this unit will do the job and then some. Thanks for the great product and service.
---
Why Not Write
Your Own Article
for Wood News?
We actively solicit contributions of editorial material (articles, photos and videos) from our customers and readership, and for every one we accept and publish in Wood News Online, we will compensate the contributor. We typically pay up to $100 (in the form of a store gift certificate) for a thousand-word-plus article with photos. The amount of the gift certificate may be prorated for shorter articles. Articles submitted may be edited by us at our discretion, and compensation may vary depending on the published length.
---

Meet the Wood Whisperer at our Spring
One-Day Sale
May 1, 2010
Join us on Saturday, May 1 for our big Spring One-Day Sale! We'll have great savings on hundreds of items throughout the store, entertaining educational demonstrations by our factory reps from Festool, Micro Jig, Kreg, Freud and others.
And all day long you can see ongoing demos by Marc Spagnuolo, well known around the cyberworld as the Wood Whisperer.
---
Steel City's 50100G 14" Deluxe Granite Bandsaw
Now Only $599.99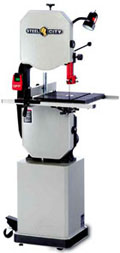 If you're in the market for a powerful, full-featured bandsaw capable of any challenge from heavy-duty resawing to fine, delicate fretwork, look no further. We believe the Steel City model 50100G is one of the best 14" bandsaws available at any price, anywhere. Quantity purchasing has kept our cost low, and we're passing the savings along to you.
---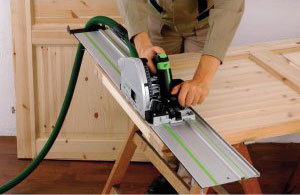 Great Time to Upgrade
to a Festool Track Saw
Order Now to Save 10%
Today is one of those extremely rare days when Festool offers a discount on one of its most popular tools. Order today and you'll save 10% on our Festool TS55 and TS75 track saws, as well as on spare blades, extra tracks and the Track Accessory Kit. We have saws and accessories in stock with free delivery in the lower 48 states. But don't wait too long. Supplies are limited and may sell out.
CLICK HERE for more info and a short video::
---
NEW Earlex 2900 HVLP
Spray Station
Pkg Deal only $149.99
With the English-made Earlex 2900 Spray Station, smooth and efficient spray finishing is now affordable for many of us who in the past had to rely exclusively on brush-on finishes. And included in our package deal is Jeff Jewitt's excellent DVD and book combination that will take you step-by-step, helping you demystify the art of spray finishing.
---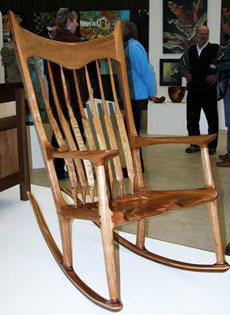 Canadian Woodworker Vern Fish builds award winning Maloof Inspired Rocker
Woodworker Vern Fish of Bracebridge, Ontario scored a proverbial woodworking "hat trick" with his Maloof-inspired cherry rocker at the Muskoka Arts and Crafts show last month.
---
Free Online Membership

Interested in the idea of building a Maloof-inspired rocker? You can start learning today how to build one yourself! Get a free membership in Chuck's Rocker Studio Online, a special website that caters to budding Maloof-inspired rocking chair builders.

CLICK HERE to sign up for FREE:
---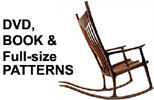 ---

No woodworking book or DVD we've ever sold before has generated the response we've received from customers to Charles Brock's excellent plan bundle that provides everything you need to know to build your own Maloof-inspired rocking chair.
Now Chuck has singled out the specific tools he uses when building the chair and listed them in one place for easy selection by woodworkers undertaking this challenging project.
---
Woodworker Featured on Brazilian Television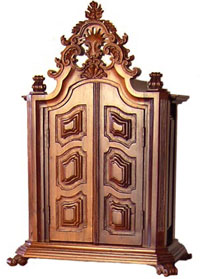 More well-deserved recognition has been visited upon Dilo Fernandino, the man who builds full-size rosewood baroque masterpieces by hand in his 42 square foot workshop. After his first solo exhibition in Belo Horizonte, Brazil in February, TV Globo, one of the world's largest television networks, featured his signature work and interview during a program on April 3, 2010.
CLICK HERE to read a translation of the video's Portuguese audio:
---

Be our 500th Follower on Twitter and win a $20 Highland Woodworking Gift Certificate!
Keep up with the latest news from Highland Woodworking via our frequent tweets.
---
The Micro Jig GRRR-Ripper is a wise investment for use with your tablesaw, router, jointer and bandsaw, especially when you need to rip or trim very small workpieces.
CLICK HERE for more info and a short video:
---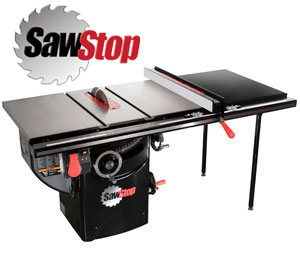 Limited Time Offer: Two Free Blades ($158 value) with purchase of PCS SawStop Tablesaw
There's never been a better time to buy a SawStop tablesaw. Get 2 free Titanium blades (40T & 80T) when you buy the SawStop PCS professional saw. Get a free 40T Titanium blade when you buy the SawStop contractor saw.
The SawStop PCS is a world class precision piece of woodworking machinery based just on its own merits as a tablesaw. However it's indisputably the SAFEST tablesaw in the world as well. The good news is it's available for a price that's competitive with other professional tablesaws (all of which LACK SawStop's patented blade braking system). DROP BY OUR STORE at your first opportunity and see why the SawStop is the professional tablesaw that makes the most sense to buy.
YOU can own a SawStop tablesaw. (WHY WAIT FOR AN ACCIDENT?)
---
Earlex HVLP Spray Station RED HOT SPECIAL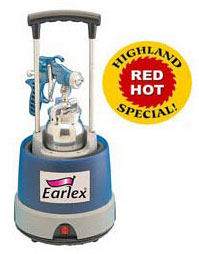 This acclaimed affordable spray system is the perfect entry into the world of spray finishing. Our everyday low price on the Earlex HV5000 is $299.99.
However while limited supplies last, a special purchase allows us to offer the Earlex HV5000 Spray Station for only $269.99.
---
Recent WOOD SLICER Testimonial

I just recently purchased a Wood Slicer band saw blade for my Grizzly 14" G0555 band saw and I have to say that this blade is absolutely unreal. I have never in my life seen a blade to equal this one and I first used a band saw approximately 50 years ago. I am cutting hardwood to a thickness of 1/16" with no saw marks and no additional sanding or finishing of any kind required prior to gluing. Very little finishing is necessary prior to applying a final finish. The speed of cut with this bandsaw blade on either soft or hard wood has probably doubled, I have not timed it. I would hate to change back to an ordinary bandsaw blade but I certainly won't risk hurting this blade on ordinary work. Again, this bandsaw blade is incredible! — T.G.
CHECK OUT our phenomenal
Wood Slicer resawing blade:
---
Now Stocking a Wide Selection of Freud Sawblades and Dados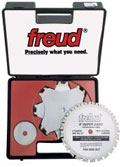 Freud sawblades offer the ultimate combination of fused tooth grind geometry, blade body rigidity, precise tensioning, a special carbide blend and superior carbide brazing, non-stick Perma-SHIELD coating and high performance anti-vibration – all working together to provide the ultimate cut.
---
Up to 25% Off!

---
Regular $19.99
HALF PRICE SPECIAL $9.99

---
Regular $59.99
SALE $39.99

---
---
Visit Our Store

If you live near Atlanta, or are just passing through, we invite you to visit and leisurely browse our amazing retail store. The thousands of woodworking tools on display here await your personal examination.

1045 N. Highland Ave NE

Atlanta, Georgia