Daryl Rickard: Woodturning Artistry Beyond the Grain
by Doug Hall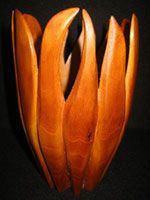 Daryl Rickard recently tied for Second Place in Highland Woodworking's 4-in-1 Screwdriver Turning Contest. We were intrigued by the contrasting woods and design of his entry and contacted him to learn more about his work.

Upon our request, he sent us photos of some of his pieces, and we were astounded by the range of his artistic talent. Daryl combines woodturning, carving, woodburning, texturing, painting and other techniques to create beautiful and truly unique pieces.

He spoke to Doug Hall about his inspirations and his departure from the purist approach to woodworking.
Read Doug's interview with Daryl

View a slideshow of Daryl's work
---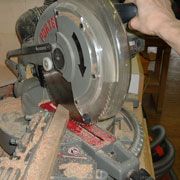 Ask the Staff
E-mail us at woodnews@highlandwoodworking.com with your woodworking or finishing questions. Selected questions will be answered in future issues. If your question is selected for publication, we'll send you a free Highland Hardware hat.
Question: I would like to get some help regarding mitered picture frames. I cut my frame pieces on my miter saw and they look great, until I try to put them together. There is always a small gap on one of the corners. When I adjust or tighten that corner it affects one of the others. How can I get a better fit or straighter miters on my frame pieces?
---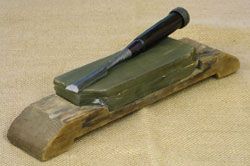 Reader Contribution
Traditional Handmade Japanese Tools
by Iain Tyndal
In the 1980's I had a small workshop beneath a cobbler's shop in the Beaches area of Toronto. One day a Japanese friend of mine brought me three tools which had belonged to his grandfather, Mr. Yashimoto. All are curious, but the sharpening stone is probably the most interesting of all. This is a natural waterstone that has been hand-hewn from a rough piece of rock. It is not a perfect rectangle and the underside of the stone still bears the marks of the cold chisel that was used to shape it.
---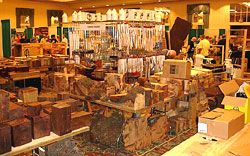 Employee Contribution
I Went to Turner's Heaven
by Phil "The Turner" Colson
The 20th Annual American Association of Woodturners National Symposium was held in Louisville, Kentucky in June of this year. This was my first national symposium and I didn't quite know what to expect.

Little did I know, but I was in for quite a treat...