Welcome to The Highland Woodturner magazine

If you've not already been receiving
The Highland Woodturner
in your email, then this issue is being sent to you as a sample of our popular new monthly publication. If you are already a turner, or have been thinking about giving it a try, we invite you to click below to sign up to receive it once each month for free. (If you choose not to sign up for
The Highland Woodturner
, you'll still receive our sister publication,
Wood News Online
each month as usual.)
SIGN UP for a free subscription to our woodturning magazine
The Highland Woodturner:
---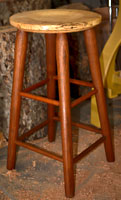 Making a Turned Stool
By Curtis Turner
Round Rock, Texas
I decided to kick off the new year by building a stool for my shop. I have dragged my current shop stool around my shop for years and always disliked having to interrupt my work flow to go retrieve it from the other end of the shop. It's a project that turned out to be more challenging than most. A turned stool with four legs requires multiple parts and involves fitting angled mortises and tenons. It's a fun project to build over the course of a weekend.
Sound interesting? CLICK HERE to read how I built it:
---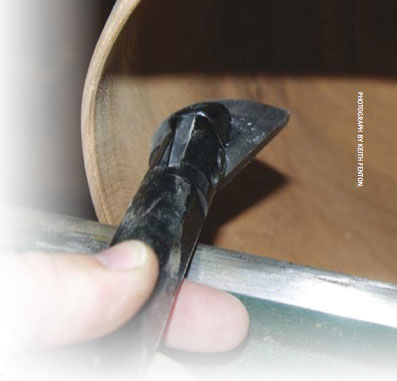 TOOL REVIEW: The New Kelton Multi-Axis Scraper
Reviewed by Keith Fenton
Woodturning Magazine
Lately there's been a lot of buzz about the new Kelton Multi-Axis Scraper.
Woodturning
magazine just did a performance test on this new scraper and featured a full page review in their latest issue.
Read Keith's review
(and a short second opinion):
---

Want to receive
The Highland Woodturner
EVERY MONTH?

CLICK HERE to sign up!

---

For this monthly column, we invite you to
SEND US PHOTOS
of your woodturning projects along with captions and a brief history and description of your woodturning. (Email photos at 800x600 resolution.) Receive a $50 store credit if we show your turning in a future issue.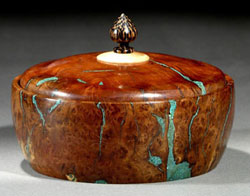 ---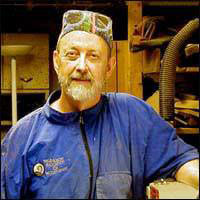 My Way of Sharpening
a Skew

It goes without saying that if you are using a skew, it needs to be sharp. A dull skew might as well be used as a hammer (though I would not recommend it).
Preferring not to invest in a stand-alone machine to do the job, I came up with my own method for sharpening a skew.
Here's what works for me:
---

Many classes fill up quickly, so please register now to make sure we hold a spot for you.
Jan. 22 - Turn a Peppermill
Feb. 15 - Sharpening for Turners
Mar. 17 - Beginning Turning
Mar. 18 - Turn a Peppermill
Mar. 28 - Taming the Skew
Mar. 31 - Basic Bowl Turning