Turning a Plant Stand
By Curtis Turner
Round Rock, TX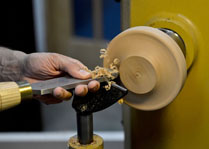 This project combines face grain and spindle turning, and creates an attractive piece of furniture. While this is a simple project, it is a bit more advanced than turning a bowl. This piece is intended as a plant stand, but could even be scaled up to make a small table.
CLICK HERE to learn how to turn a plant stand:
---
Chris Ramsay, Hat Turner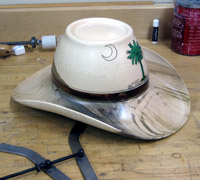 In this classic Highland blog post from 2007, Phil Colson recounts a demonstration Chris Ramsay gave at the Georgia Association of Woodturners where he turned a cowboy hat out of sugar maple.
CLICK HERE to read the post and watch a video slideshow of Chris turning the hat:
---