CLASS: Tuning Up Your Shop Machines, Feb. 27

During this informative 3-hour demonstration class, instructor Tony Seuss will show you how to detect misalignment in machinery and how to use simple and economical calibration jigs and fixtures to improve the accuracy of your table saw, bandsaw, jointer, drill press, miter saw and bench grinder.
CLASS: Tuning Up Your Shop Machines, Feb. 27
---
Highland's Upcoming Woodworking Class Schedule in Atlanta

Many classes fill up quickly, so please register now to make sure we hold a spot for you.

Feb 8 Build a Toshio Odate Toolbox
Feb 9 Introduction to Marquetry
Feb 12 Finishing the Finish
Feb 18 Hand Tool Sharpening
Feb 20 Timber Framing
Feb 22 Beginning Turning
Feb 25 Natural Edge Bowl Turning
Feb 27 Tuning Up Your Shop Machines
Mar 1 Beginning Character Carving
Mar 12 Sharpening for Turners
Mar 13 Hand Cut Mortise and Tenon
Mar 15 Hand Cut Dovetails
Mar 17-20 Cabinet Making Basics
Mar 25 Hand Planes
Mar 26 Coloring Wood
Mar 27 Marking and Measuring
Mar 29 Finishing 101

View more upcoming classes
Classes Suitable for Teens
View Slideshows of Classes
---
Show Us Your Woodworking!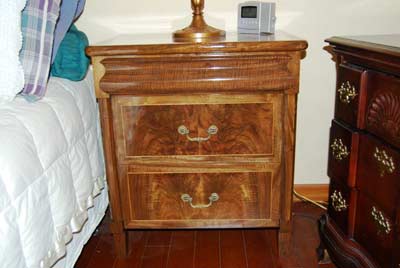 This month we're featuring the woodworking of Mike Stafford, who is showing off his bedroom furniture projects.

CLICK HERE to see more of Mike's projects:
---
Show Us Your Woodcarving!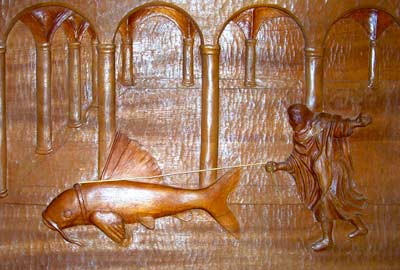 This month we're featuring the carvings of Don Schneider, a self-taught veteran, who first started out carving with an exacto knife and two wood files.

CLICK HERE to see more of Don's woodcarvings:
---
Tips From
Sticks-In-The-Mud
Woodshop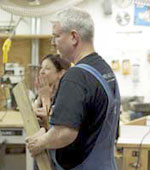 By Jim Randolph
Long Beach, MS

This month, Jim offers a tip on dust safety and the best household product he has found to help him clear the dust from his sinuses. He also offers a tip on dust collecting filters and how to make them last longer!

CLICK HERE to read this month's tips from Sticks-In-The-Mud Woodshop!
---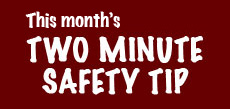 This month, Bruce Umbarger has a tip on cutting plywood on the table saw, and making sure you rehearse the cut.

CLICK HERE to read Bruce's Tip:
---
FREE SHIPPING on Leigh Jigs in lower 48 states
Our Leigh Dovetail Jigs and Frame Mortise and Tenon Jigs will turn your shop into a cabinet factory.

CLICK HERE for more info:
---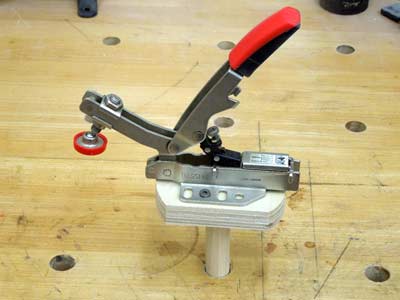 TOOL REVIEW:
Bessey Auto-Adjust Toggle Clamps

By Jeffrey Fleisher, New Market, VA

Ever need a third hand? Fingers getting too close to a moving blade when using a jig? Those dovetail boards moving around on your bench as you try to clean out the waste? Well, Bessey's Auto-adjust Toggle clamps are the thing you need to solve those problems....and many more!

CLICK HERE to read the review:
---
HIGHLAND VIDEO: Product Tours Available on our YouTube Channel!

Check out the great product tour videos on our Youtube Channel . Our good friend's Morton, Chris, and Curtis demonstrate some of our most popular products for your benefit in these tours.

Click below to watch a product tour, all about the Bessey Auto-Adjust Toggle Clamps :


Are there any products you'd like to see in a product tour? If so, we invite you to EMAIL US and let us know what YOU would like to see!
---
Highland Limited Edition Smoothing Plane

Our limited edition commemorative smoothing plane is both beautiful and practical, a sheer delight to see, touch and use.

CLICK HERE for more info:

---

This Month on
The Highland Blog

Get Woodworking Week – Tips for Getting Started , by Lee Laird.

February 2-8, 2014 has been dubbed Get Woodworking Week by fellow blogger and woodworker, Tom Iovino of Tom's Workbench . Highland blogger, Lee Laird, gives some tips to the beginning woodworker in this classic blog entry, for an important week of woodworking!

CLICK HERE: To see what you need to get started!
---

Our latest
Woodworking
Catalog is
available to
browse online!

CLICK THE IMAGE
TO BEGIN
---



Charles Brock has singled out the specific tools he uses when building his sculptured chairs and listed them in one place for easy selection by woodworkers undertaking this challenging project.

Check Out the Tools of the Trade:
---
Steel City Helical Planer
with Carbide Cutters
Only $499.99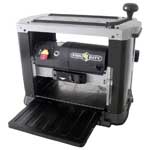 Steel City's affordable 13" helical-style thickness planer now comes equipped with 26 CARBIDE CUTTERS for long-lasting edge retention.
CLICK HERE for more info:
---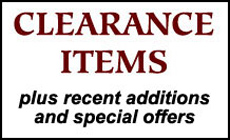 Inside This Issue
Book Review: Woodwright's Guide
Tips from Sticks-in-the-Mud Woodshop
Show Us Your Shop
Pennsylvania Step-Back Cupboard
Lie-Nielsen Tool of the Month: Dowel Plate
The Down to Earth Woodworker
Q&A: Can I Sharpen a Wood Slicer?
Build a Thickness Sander and Resaw Jig
Review: Bessey Auto-Adjust Toggle Clamps
Create Your Own Wooden Plane
Show Us Your Woodworking
Show Us Your Woodcarving
India Ink in Wood Finishing
SAFETY: Table Saw Safety
---
Show Us Your Shop!
For this popular monthly column, we invite you to SEND US PHOTOS of your woodworking shop along with captions and a brief history and description of your woodworking. (Email photos at 800x600 resolution.) Receive a $50 store credit if we show your shop in a future issue.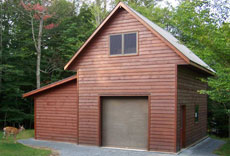 This month we are featuring Jim Brown's shop in Old Forge, New York.

CLICK HERE to take a look inside Jim's shop:
---
Our February Lie-Nielsen Tool of the Month:
Lie-Nielsen Dowel Plate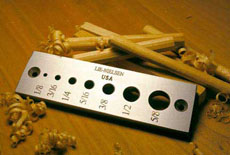 If you have an important project, and want to use a specific wood that either contrasts with or matches your project, what the heck do you do? Enter the Lie-Nielsen Dowel Plate. Lee Laird goes into further detail of its design and uses on the Highland Blog.

Read Lee Laird's blog post about The Lie-Nielsen Dowel Plate to learn more:

Take a closer look at the Lie-Nielsen Dowel Plate:

Check out Morton's Video Product Tour of the Lie-Nielsen Dowel Plate:
---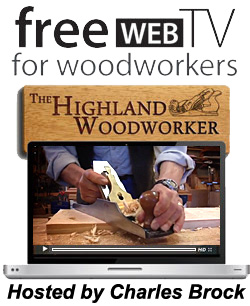 CLICK HERE to see the latest episode:
---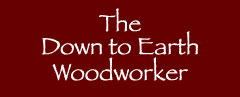 By Steven D. Johnson, Racine, Wisconsin

The Dust Collection Series – Part 2

Knock On Wood…

The Last Surviving Artists

Next Month In The Down To Earth Woodworking Shop



This month, Steve discusses the preparations he needed to make for the installation of his new dust collection system, discusses the mentality of the "superstitious" woodworker, ponders the fact that woodworkers may be the last surviving true artists, and gives us something to look forward to in March.

CLICK HERE to read more:
---
Building a Pennsylvania Step-Back Cupboard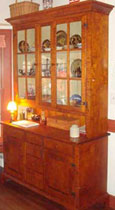 By Kerry Lancaster
Jonesboro, GA

My high school wood shop teacher, who was in his late 80s, passed away in June 2012. Before he died I had the privilege of reconnecting with him. I was able to thank him many times for the knowledge he imparted to his students during the many years he taught, and I promised him that I would try and build a piece of furniture that would make him be proud to say that I was his student.

CLICK HERE to see how Kerry built the Pennsylvania Step-Back Cupboard
---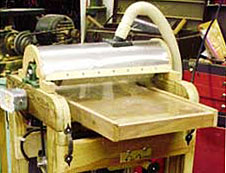 Building a Thickness Sander and Re-Saw Jig


By Linda Master
Dexter City, Ohio

As a miniaturist, Linda Master needs really thin wood, so she ended up building a Re-Saw Jig for her bandsaw, and a Thickness Sander all by herself.

CLICK HERE to see how she did it:
---
BOOK REVIEW:
The Woodwright's Guide
by Roy Underhill

Reviewed by J. Norman Reid,
Delaplane, Virginia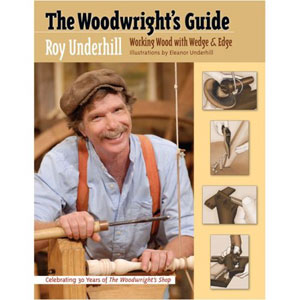 It is my privilege to review this most recent book by Roy Underhill, the popularly denoted saint of the woodworking profession. And what a joy to absorb some of the wisdom this master has imparted in this comprehensive and eminently readable volume.

CLICK to read the review:
---
Ask the Staff

Question: I have a standard 14" bandsaw blade, I think it is Woodslicer, 3tp x 3/4" wide. Can this blade be sharpened?

For more details and the answer, CLICK HERE:

E-mail us with your woodworking questions. If yours is selected for publication, we'll send you a free Highland Woodworking hat.
---
Finishing Wood with Alan Noel

India Ink

India ink has been around for thousands of years dating back to the 3rd Millennium BC in China. Somewhere along the way China began importing the materials from India to make india ink thus the term "india ink" was coined. India ink has been used to decorate furniture, especially inlays for quite sometime.

Here are NINE helpful tips for using India Ink:
---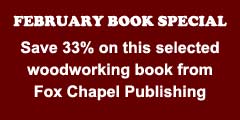 Glue and Clamps
The Missing Shop Manual
In Glue and Clamps , you will find out how to best utilize this essential workshop tool, and how to get the most for your money by getting the most from your equipment. Filled with clear diagrams and instructions, this pocket sized durable manual is ideal for quick reference in the workshop.

Order this book from us during
Feb. 2014 for 33% off list price.

CLICK HERE to look inside the book:
---
Browse dozens of home workshops
Browse our woodworking tips
How to submit an article
to Wood News
Order a Highland Gift Card
Map to our Atlanta store
---
More Featured Products
• Bessey Toggle Clamps
• Festool Router Table
• Lenox Carbide Bandsaw Blades
• Masterpiece Wood Finish
• Pattern Maker's Vise
Instantly access any article ever published in Fine Woodworking,
now for only $69.99

This new DVD archive contains every article in the 237 issues of Fine Woodworking magazine published in the past 38 years. Easily search and view an entire generation's worth of woodworking wisdom. While supplies last, save $30 off the $99.95 list price.

CLICK HERE for more info:

---

Thinking of getting a SawStop?


Your fingers are worth it!

In the U.S., a tablesaw accident happens
EVERY 9 MINUTES!
---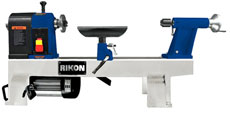 Rikon 12 inch Premium Mini-Lathe, only $299.99
while supplies last

We love this little lathe. It's what our students use in our turning classes. With it you can turn bowls up to 12" diameter, and with an optional bed extension it can even be expanded to turn spindles up to 40" long.

CLICK HERE for more info:
---
Save $50 on our sweet SuperNova2 4-jaw Chuck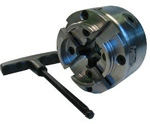 Here's a great buy on a high quality 4-jaw scroll chuck with advanced features.

CLICK HERE for more info:

---
Rikon 10" Bandsaw
Now only $199.99
while current supplies last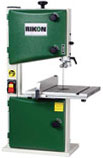 This little gem has proven itself to be an excellent value as a compact bandsaw. We've sold over 500 of them in just the past 2 years! We highly recommend it as your first bandsaw bought on a budget, or as a second bandsaw that allows you to avoid constantly swapping blades on your main bandsaw. This special purchase makes it extremely affordable.

CLICK HERE for more info:
---
Save $150 on our Rikon 14" Bandsaw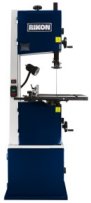 Our bestselling Rikon 14" bandsaw has proven itself a reliable workhorse in hundreds of our customers' shops. Its 13 inch resaw capacity and powerful 1-1/2 HP (115 volt or 230 volt) motor allow you to create any thickness lumber.

CLICK HERE for more info:
---
Bora Straight Edge Clamp

This versatile straight edge clamp will add precision to your cuts whether you're using a circular saw, jigsaw or router. While it's normally used for making square cuts, the clamp's swivel head also allows you to guide your saw at angles up to 22.5 degrees. Lightweight and corrosion resistant, the clamp's tough aluminum alloy extrusion will not warp or deform. Adjustment of clamping length is quick and easy.

CLICK HERE for more info:

---
Festool Planex Drywall Sander 10% Off in Feb.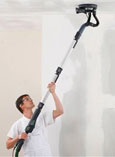 Simply put, the Festool PLANEX is the best drywall sander around. With the PLANEX you can sand drywall to a excellent finish quickly and cleanly. When paired with a Festool Dust Extractor the PLANEX sands newarly dust free. Its modular design, rugged build quality and unrivaled ergonomics will provide a quick return on its investment.

CLICK HERE for more info:

---
Save over $100 on our
Triton Plunge Routers

Choose either 2 HP or 3-1/4 HP model of this extremely versatile plunge router, great for either hand-held use or extremely convenient performance in a router table, and while supplies last , receive FREE a Triton Compact Belt Sander worth $79.

2 HP model - SALE $219.99
3-1/4 HP model - SALE $249.99


---
NEW Rikon 25-200H Helical Planer-Jointer
This new version of Rikon's popular 12" Planer-Jointer features a helical cutterhead with 56 individual cutters arranged in four overlapping rows for ultra-smooth planing. Hefty 3 HP motor allows 1/8" thick stock removal in a single pass.

CLICK HERE for more info:


---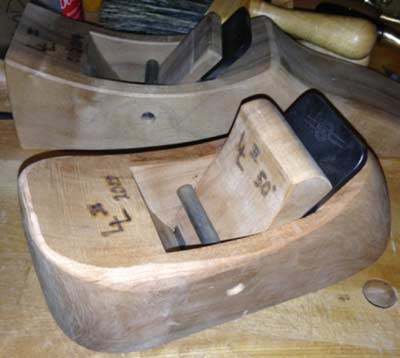 How I Built a Wooden Smoothing Plane

By Lee Laird

Many woodworkers I've met have at least a couple of hand planes, and while most of them seem to be iron-bodied planes, there are quite a few that also have some wood-bodied planes. I equally fit into this scenario, and while my iron-bodied planes work wonderfully, I also enjoy the feel and results of using wood-bodied planes and set out to build one myself.

CLICK HERE for how he built it:


---
Tormek T-7 40th Anniversary Limited Edition Wet Grinder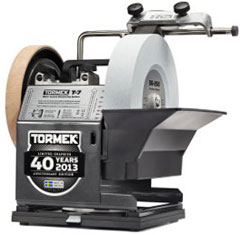 Tormek's 40th anniversary limited edition includes (for no extra charge) a handy rotating base worth $55, as well as a commemorative ballcap. If you've been lusting after a Tormek T-7 to streamline sharpening in your shop, now is the time to buy! Quantity limited.

CLICK HERE for more info:

---
WORKBENCH SALE
Save up to $200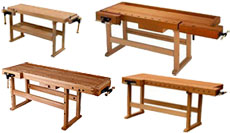 Several models of our ever-popular European and German workbenches are now on sale. Choose the model that fits your shop and budget.
CLICK HERE for more info:
---
WOOD SLICER Testimonial

I recently purchased a 3/4 inch blade. It certainly is everything you claimed it to be. My 18 inch bandsaw always frustrated me. I was never sure if it was the blade, the fence, or the guides. The saw now performs as it should, at a much lower decibel than before. The blade set-up instructions are informative and well written in layman's terms. Thank you for a quality product. — Dennis
Get Yourself a Wood Slicer:
---